Welcome to Emma Hunt Art

Emma is a West Cumbrian based artist that paints predominantly pastel landscapes as a way of therapy for mental health and pain management.
Art offers a way of escapism from her condition, Ehlers-Danlos Syndrome. This is a painful disability that affects the collagen in the body. Her expression in art is a constant pursuit of learning.
She enjoys teaching these techniques online and in the community.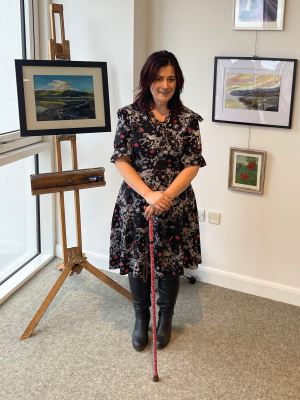 Lovely Reviews

I love Emma Hunt, her Art is stunning and fills me with awesomeness as im taken back to some places i have been. I would not stop buying it if i had enough walls. Truly Wonderful, honest breathtaking.
Picture has pride of place in sitting room above the fireplace, love this picture
A brilliant and enthusiastic artist,her teaching shows how she wants to spread the joy of creating so others can benefit from the wellbeing creating can produce, particulary through the pandemic a natural teacher.
Attended a fab in person workshop run by Emma at the weekend. Emma has kindly been running free online workshops since lockdown and it has been a wonderful reintroduction to pastel art. Thank you Emma for the inspiration ????

Emma is an amazing local Cumbrian artist and her work is amazing we have 3 of her original pastel pictures one of which is of my original photo of a sunset from scafell pike and hopefully in the near future will be looking at purchasing another one fingers crossed .
Emma is a great natural teacher. Her demos are so relaxing and she makes it all look so easy. She is always encouraging, gives loads of hints and tips and gives you the confidence to give it a go! As a complete beginner in pastels I have learned so much from her Sunday classes and am looking forward to learning more from her in the future.
Apart from being an extremelytalented artist, Emma is a good teacher and very generous with her time and talent in these tough times. I hope that when we come out the other side of this her career as an artist, her exhibitions and workshops continue to go from strength to strength x